Teil 1, weil ich bestimmt noch was vergesse… Also, während ich schon wieder ganz aufgeregt bin, weil es nun bald ernst wird, habe ich mir überlegt, einfach mal nur an die schönen Dinge zu denken.
Darum sind hier die Dinge, auf die ich mich in der neuen Wohnung freue:
das Schlafzimmer
Das große Fenster im Schlafzimmer
Mehr Platz im Bad- und die Badewanne
das Einrichten der Essecke
die leisere Umgebung und der grünere Ausblick
den Fahrrad-Abstellraum- keine Treppen!
den Balkon gemütlich "einrichten"
Die Vorstellung, wie alles fertig aussehen wird
Mir wird bestimmt noch mehr einfallen.
Und zur Dekoration hier ein Bild auf dem sich in der Ecke im Flur schon so allerhand stapelt.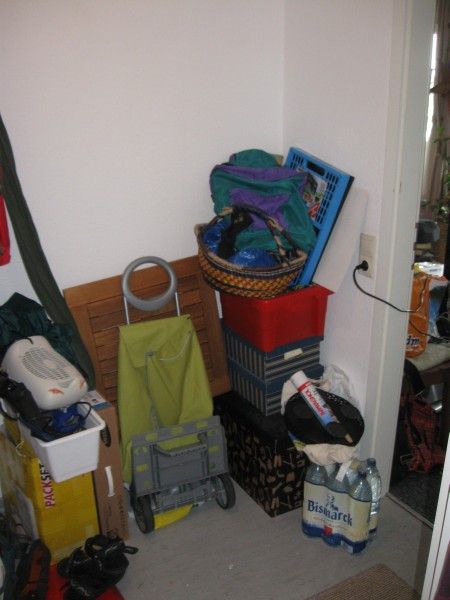 (Man sieht u.a. meinen Balkon-Klapptisch, einen grünen Einkaufsroller, diverse große Kartons in unterschiedlichen Farben, meinen Einkaufskorb und meine Fahrrad-Packtaschen- die sind wirklich grauenhaft und stammen aus den 90er Jahren. *g* Sie sehen so aus, die die Hochglanz-Sportanzüge damals aussahen und sind in den Farben lila und grün. Naja, so klaut sie wenigstens keiner, deshalb behalte ich sie erstmal noch. *g*)
English Version:
Since I am beginning to fret again, as the time of the move draws nearer and nearer, I have decided to think only of the nice things and to write down what I will love about the new place. So here is my first list- first, because that was not all and I will likely have to extend the list further.
having a real bedroom
the big bedroom window
more space in the bathroom- and the bathtub
outfitting the dining corner
the quieter surroundings and the greener view
The parking space for the bicycles- no stairs!
making the balcony pretty
imagining how everything will look like when finished
And for decoration an image of a corner in the hallway which shows what happens to corners recently- they clutter up with stuff. (You see, among other things, my folded Balcony table, my green shopping trolley also folded, several boxes in various colours, my handbasket and my bike-bags. And the latter really look awful. They are from the 90ies and totally look it. The resemble the shiny sport-dresses that were in fashion then and sport the colours green and violet. Ah, well, like this, no one will want to steal them, so I am gonna stick to them a while longer, still. *g*)