Meine Lieferung mit dem Mittel gegen Spinnmilben und andere kleine Monster kam heute schon an und ich bin natürlich gleich zur Packstation, um das Päckchen zu holen. Die beiden Dosen haben gerade so gereicht, da hatte ich gut geschätzt. Für die Nachbehandlungen muss ich dann noch mal neu bestellen.
Den Tag habe ich damit verbracht sämtliche Pflanzen zu waschen und sofern verträglich einzusprühen. Bei den Orchideen hat es nur das linke Fenster erwischt, so wie es scheint. Da ich auch den Ausgangspunkt für die "Epidemie" gefunden habe, ist das auch kein Wunder. Das Efeu und der Elefantenfuß hatten sich in Spinnmilben-City verwandelt. Das ist definitiv das letzte Mal, das ich in der Bauhausfiliale irgendwas kaufe was lebt…
Efeu und Elefantenfuß sind nun entsorgt und die Orchideen behandelt. Ich hoffe das Mittel schlägt schnell an.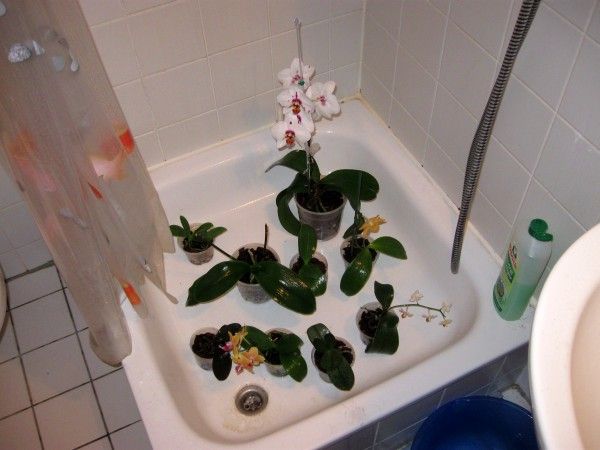 Ich habe die Pflanzen komplett besprüht, auch auf die Gefahr hin, das sie nun die Blüten abwerfen, aber eine schnell geheilte Pflanze ist mir wichtiger als Blüten, die kommen schon wieder.
Von all den befallenen Pflanzen hat sich meine Phal. bellina am tapfersten geschlagen- auf der turnten zwar hungrige Spinnmilben rum, aber dank der wachsartigen Oberfläche hatten die offenbar nicht viel Glück beim Anbohren. Ich wills hoffen, denn sie öffnet gerade die erste Blüte und macht eine zweite Knospe.
Vielleicht sollte ich meine Hybriden alle verschenken und nur noch bellina Variationen sammeln *g*, nee, mach ich nicht, aber das ist wirklich meine zäheste Pflanze- ganz entgegen meiner Befürchtungen.
Jetzt sind alle wieder an ihrem Platz bei 25C und 63% Luftfeuchtigkeit, das ist sozusagen ideal und ich hoffe es hilft bei der Heilung.
My delivery with the anti-spider-mite treatment already arrived today, whee! Of course I immediately went to pick it up. So the day was spent working off the points of the spider mites post.
Further examination resulted in a slight relief, because apparently only the left window with the Phals has been affected. Investigation turned up why – the elephant's foot and the ivy had sneakily turned into Spider-Mite-City, spreading the suckers on the wind of the fan most likely. This was definitely the last time that I buy a plant in that branch of Bauhaus!
On the picture above, you see the orchids standing in the shower after treatment. (The ones unaffected so far have been treated, too, no risks!) I have coated the whole plants with the spray, as I prefer plants getting healthy again soon, if that means they throw off the blossoms, so be it. They can make new ones.
Of all my affected plants, my Phal. bellina proved most tough- hungry mites were walking around on it, but apparently they had not been very successful with getting at the sap so far- must be the wax-like surface of the plant. I hope it will not mind the treatment of today much, as it just opens its first blossom and is making a second one.
Maybe I should give all those sissy hybrids away and collect only variations of Phal. bellina, LOL!! Naw, I won't, but this one is a real tough plant, proving all my initial worries wrong when I bought it.
Now they are all back in their place, with an ideal temperature of 25C and air humidity of 63% – I hope this helps them overcome this trouble fast.