"Miss Milton" nimmt den Schleier
"Miss Milton" nimmt den Schleier
…nee bei mir geht keine Orchidee ins Kloster. *g*
Stattdessen hatte ich die glorreiche Idee meine mimosenhafte Miltoniopsis einfach vor die Tür zusetzen – denn da ist es kühl und es gibt einen Tag-Nacht-Unterschied. Wenn hier die nächste Hitzeperiode anfängt nehme ich sie vorübergehend wieder rein, denn ich denke bei 30C oder mehr fällt sie tot um. Aber bis dahin ist es draußen sicher netter für sie.
Das Netz soll übrigens keine Viecher abwehren (ist ja eh behandelt und potentiell tödlich für alles was krabbelt), sondern der Morgensonne etwas die Kraft nehmen. Ansonsten ist der Standort ja unverändert, nur auf der anderen Seite des Fensters.*g*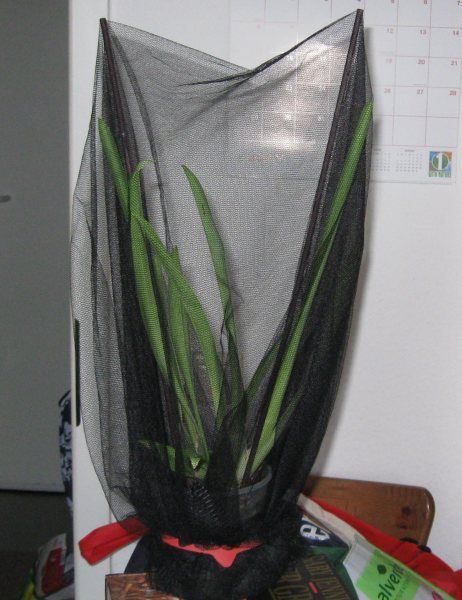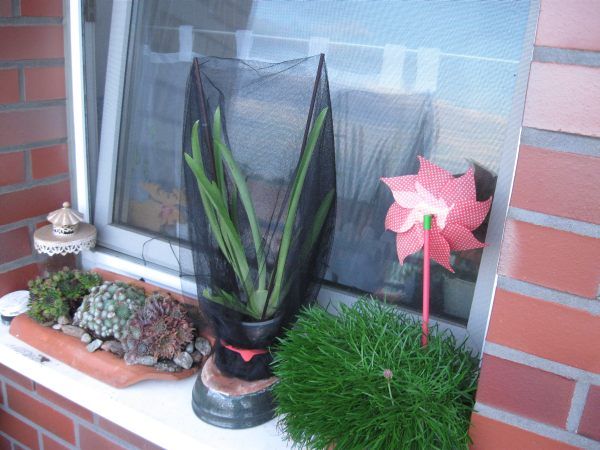 "Miss Milton" takes the veil.
Naw, no orchid heading for the monastry here, LOL!! I just got the idea to simply put out my obviously suffering Miltoniopsis, because it is cool out there and there is a true change between day and night- probably she needs that to recover. As soon as we fall prey to the next heat-period, I will take her back in, though, because no way that plant lasts more than 30C. But until then she might like it better outdoors.
The "veil" is not for fending off creepy crawlies, but for lessening the power of the morning sun, so that the plant will hopefully stand this. Apart from that, the spot the plant is in has not changed vastly- it is just on the other side of the window now.