Ende November hatte ich bei Blume 2000 für 3 Euro eine aussortierte Dendrobium Nobile Hybride mitgenommen, damit ich mein schon vorhandenes kleines Dendro Nobile damit zusammenpflanzen konnte und endlich eine vernünftige Topfgröße erreicht wurde.
So sah das dann aus, die neue Pflanze blühend im Vordergrund: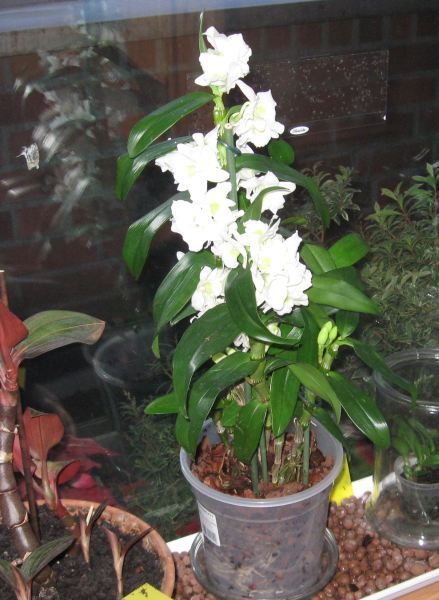 Die Blüten: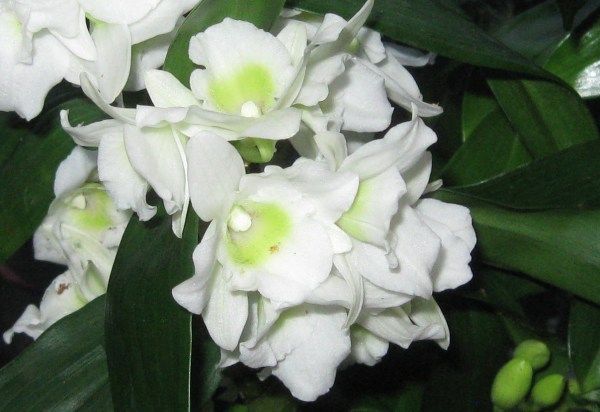 Die Blüten blieben noch erstaunliche 2,5 Wochen eine Augenweide (immerhin war die Pflanze schon in der Ecke bei den herabgesetzten Artikeln…), dann war die Pflanze ausgeblüht und wirkte ziemlich erschöpft, man beachte die hängenden Blätter (auch nach dem Tauchen). Der Pflanzenteil mit der helleren Färbung und den stehenden Blättern ist die Pflanze, die schon länger da ist: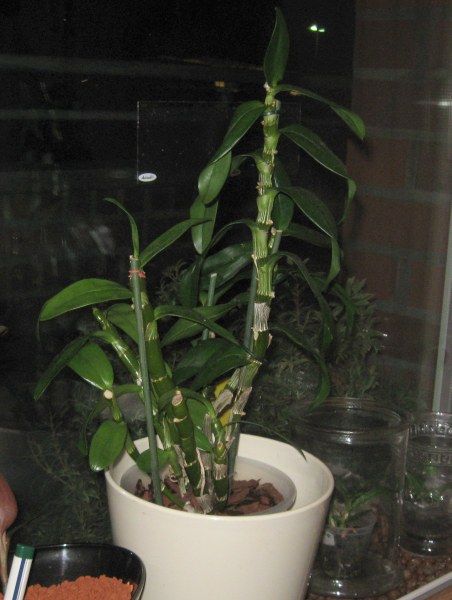 Aber dann gestern bei der Krabbeltier-Kontrolle die erfreulichen Lebenszeichen:
Ein paar Kindel, eins hier im Bild: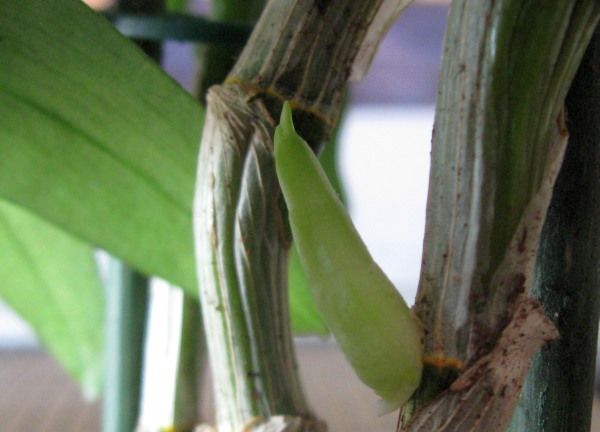 und ein Neutrieb (ich glaub es sind noch mehr, aber die sind noch nicht alle so gut sichtbar):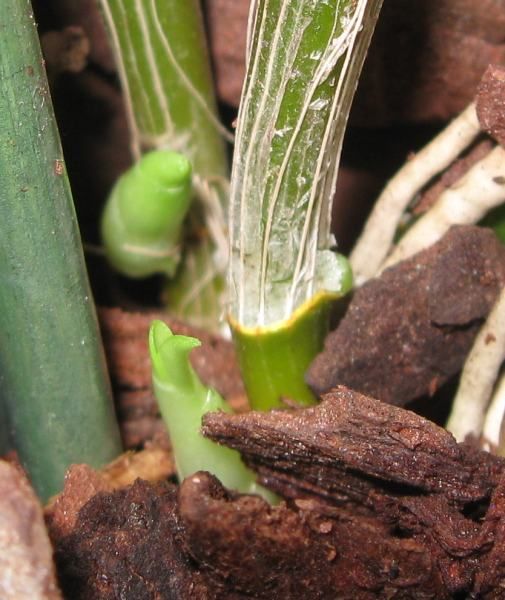 English Summary:
Around the end of November, I had found a discounted Dendrobium Nobile Hybrid in the "old stuff" corner at the local flowershop and since it did cost only 3 Euro, I took it home.
The plan was to plant it into one pot with my resident small Dendro Nobile hybrid, so that I finally could use a proper pot and get to normal watering intervalls. So this was done and the new plant delighted me for 2,5 weeks with its flowers (I find this astounding, as it was already sorted into the discount corner…) before it finished blooming. Then it looked pretty spent, though.
You can see it above, the leaves don't stand but hang, even right after watering. The parts with the lighter green and the standing leaves belong to the plant that has been here longer.
When I checked both closely in the weekly check for creepy-crawlies, I saw to my great delight that there was some new life in the plant afterall. It is making new shoots and keikis both. Some of the activity is pictured above.