Die Orchideen sind alle brav, zwei ziehen trotz Lichtmangel eisern eine Blüte durch, zwei setzen dazu an und der Rest wuchert trotz kalter Nächte (oder vielleicht wegen dieser) sehr unbekümmert vor sich hin. Ein Gutes haben die undichten Fenster natürlich- egal wie man heizt, die Luftfeuchte fällt niemals unter 47%. *g* Das finden die Pflänzlis natürlich super.
Hier mal ein paar Bilder von den "normalen" Pflanzen.
Ich glaub ich werd nicht mehr- der Zwerg versucht sich an Knospenbildung!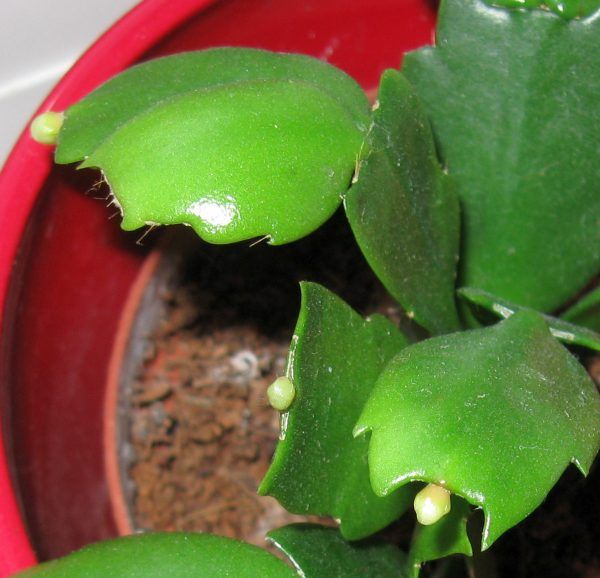 Mein Croton hats nicht gepackt, er hatte Stammfäule (natürlich hab ich geguckt warum der abnibbelt bevor er wegkam)- und das hier ist sein "Ersatz":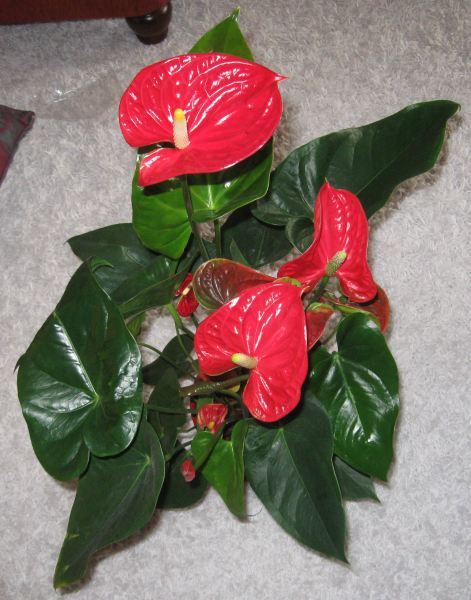 Blätter wie ein Monster (=Fensterblatt), Ansprüche wie eine Phalaenopsis, maximale Höhe von 1m und knallrote "Blüten" (Hochblätter).
Diesmal habe ich vor dem Kauf (ja, geht doch) die entsprechenden "Wie pflege ich ein…" Seiten gelesen. Dort fand ich den Hinweis, dass diese Pflanze sich auch in Orchideen-Substrat wohlfühlt- und deshalb wurde sie von mir umgehend von Erde befreit und in Rinde gesetzt. Nun bin ich mal gespannt, gut bewurzelt ist sie, damit müsste sie auch solche Wechsel hinbekommen.
Und vielleicht kann mal jemand der Grünlilie mitteilen, dass das ein Wohnzimmer und nicht ihr persönliches Gewächshaus ist? Sie wird immer größer…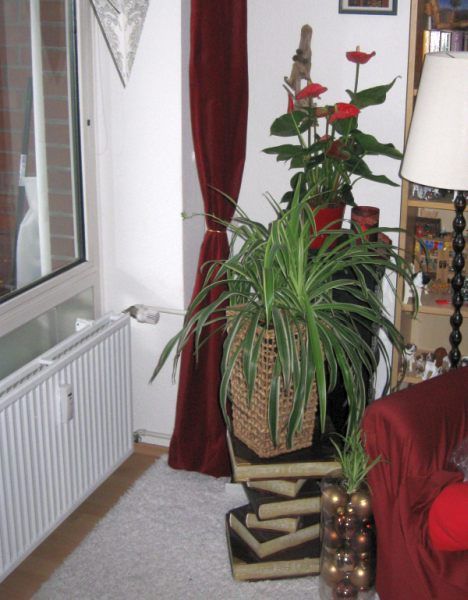 English Version:
Plant update!
The orchids are all being nice, two are ignoring the lack of light and bloom, two more are attempting to do so and the rest is growing happily- despite the cold nights. (Or maybe because of them, they like the difference between day and night)And of course there is one good thing about the drafty windows- the humidity never drops below 47%, no matter how much I crank up the heating. The plants sure love that. *g*
And above some pictures of some of my "normal" plants.
The mini offshoot of Mum's little Christmas-Cactus is attempting to flower! See its tiny, tiny buds! *all excited*
The Croton did not make it, before doing away with it, I examined the reason for its failing health- the trunk was rotting inside out.
I "replaced" it with an Anthurium which, after studying some websites, sounded ideal as a live in. It's leaves look like those of a Monstera, but it does not grow nowhere as tall, it has demands similar to a Phalaenopsis and likes orchid substrate, so I repotted it into bark ASAP. Since it has many good roots, it should not sulk too much about it…
And someone please tell my Clorophytum that this is a livingroom for everybody and not just for itself? It grows and grows. o.O