…oder: Muß das so heiß sein?!
Der Tag gestern in Zahlen – über 36C gestern im Schatten am Nachmittag, hier ist der Beweis: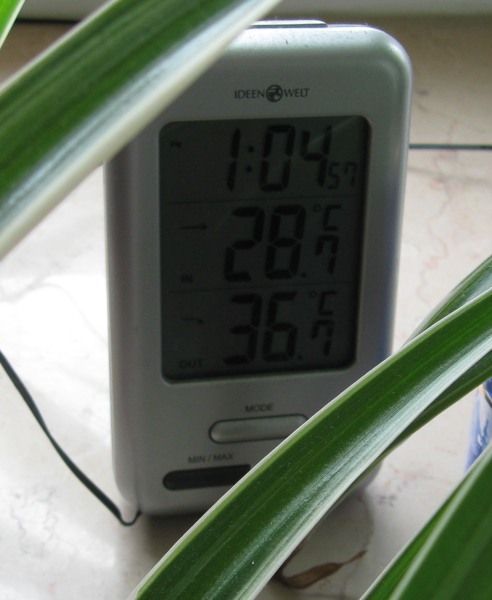 Bitte die Uhrzeit der Wetterstation nicht beachten, die ist verstellt und weigert sich beharrlich sich wieder stellen zulassen. Ich habe diese Temperaturen gestern gegen 16:30 abgelesen.
Mehr Zahlen:
Um 7:00 aufgestanden, bis nach 16:00 gearbeitet (einkaufen, alte Wohnung sauberschrubben). Dann mal Spaßeshalber auf die Waage- Ergebnis: ein Verlust von 3kg- aber vermutlich sollte das wohl eher Liter heißen. *g*
Dann abends nach ausreichend Zufuhr von Wasser und Nahrung nochmal auf die Waage- aha, Startgewicht wieder erreicht.
Dann heute morgen nochmal und siehe da: -1,5Kg. War also doch nicht alles nur Wasser.
English version:
I want snow!!!
…or: Why does it have to be that hot?!
Yesterday in numbers – over 36C yesterday afternoon in the shadow, above you find the photo-proof. (Don't be confused by the weird clock, it has been set up by being without batteries and so far refuses to be reset. The piccie was taking around 16:30 in the afternoon)
More numbers: Rose at 07:00 and worked until after 16:00 (shopping, cleaning old appartment most thoroughly). Then I stepped onto the bathroom scales just for fun. Result: minus 3kg – but I suppose, litres would be more correct, LOL!! Then in the evening, after drinking lots of water and having food, a second check- aha, back to starting weight.
Last check this morning: Oh, minus 1,5kg. So it was not all water afterall.