Ich hatte ja auf eine Weihnachtsblüte getippt, aber die Phal. Mashimo wollte es wohl mal wieder besonders schön machen und hat eine echte Riesenknospe heranreifen lassen. Die geht nun langsam auf und so wird es wohl eine Neujahrsblüte werden. 🙂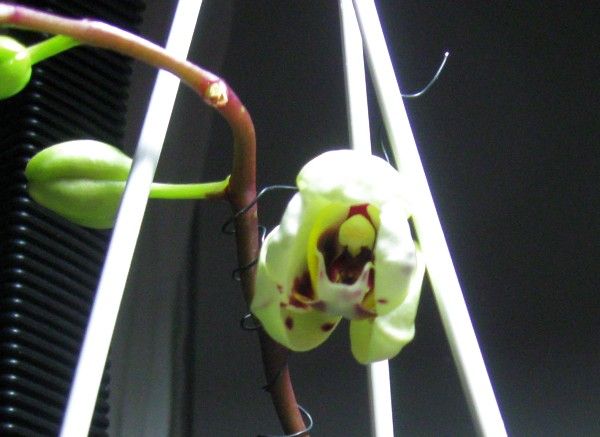 Bei den Amaryllen wird immer noch geblüht wie wild. Der zweite Stiel der ersten Pflanze hat ebenfalls sechs Blüten hervorgebracht, ich bin echt platt: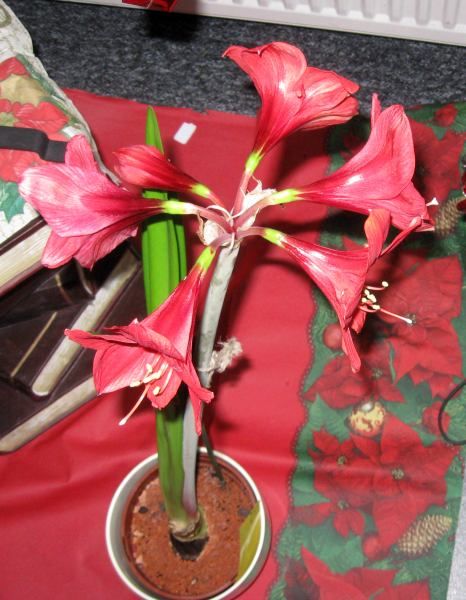 Die zweite Pflanze hat gerade begonnen zu blühen- hier mit vier Blüten, der zweite Trieb sieht aber viel dicker aus, bin gespannt was da rauskommt.

English Summary:
Didn't I say so? Well, actually I said I get a Christmas-flower, but then Phal. Mashimo wanted to really outdo herself again and produced a huge bud, which took time. Now it slowly unfolds and so I am going to get a New Year Blossom, it seems. 🙂
The Amaryllis are still very busy. Plant 1 has now the second set of flowers open (one still opening) and again, there are six big red flowers! I am extremely delighted about that unexpected mass of flowers.
The second plant has a more usual number of four flowers in the making, but the second spike has a much larger flowersheath, so I am curious how many flower's I'll get in the second round for that one.