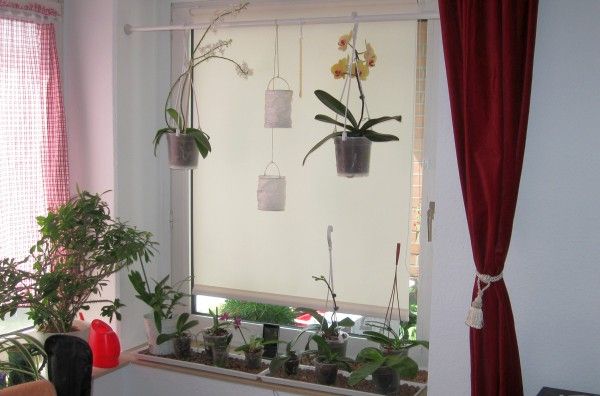 Denn die Plümchen fühlen sich hier anscheinend sauwohl (vermutlich wegen der hohen Tag-Nacht-Temperaturschwankungen von über 6 Grad) und da geht so Einiges.
Die Truppe im Schlafzimmer wächst vor sich hin und ist überwiegend mit Neutrieben beschäftigt. Die Odotioda blüht immer noch, auch wenn die Blüten jetzt so langsam schlapp machen, aber die Blüte dauert nun schon fast 4 Wochen -und das mit Umzugsstress.
Eine Überraschung gibts draußen- meine Gewächshauskandidaten haben ja recht wenig und unregelmäßig Wasser bekommen- aber widererwarten hat sie das nicht gestört- die Black Comet macht einen Neutrieb und der große Dendro-Topf, der macht das:


Damit hätte ich ja nun gar nicht gerechnet, aber anscheinend machen dieser Pflanze nicht mal die Temperaturen was aus, so lange, wie genug Schatten da ist.
Meine Nelly Isler fand das Gewächshaus ja nicht so prickelnd und ging ein- aber, was hab ich da für einen Pflegling beim Einkaufen aufgegriffen? Das Prachtstück hat miserable Wurzeln, aber Neutriebe und schwächelt deshalb noch nicht. Ich habe daher berechtigte Hoffnung diese Pflanze durchzubringen: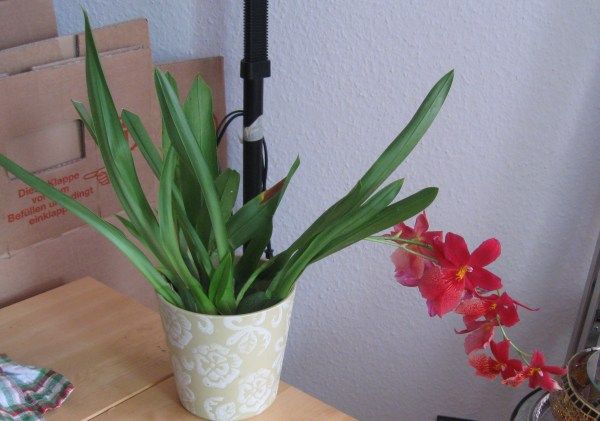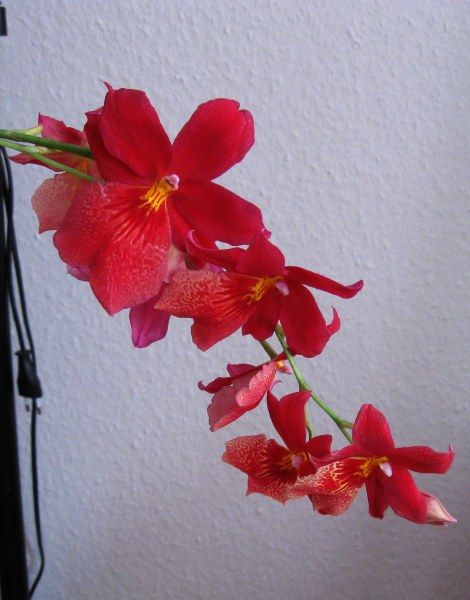 Läßt man den Blick über die Fensterbank schweifen, dann sieht man, das fast überall fleißig neue Blätter und / oder Blütentriebe in Arbeit sind: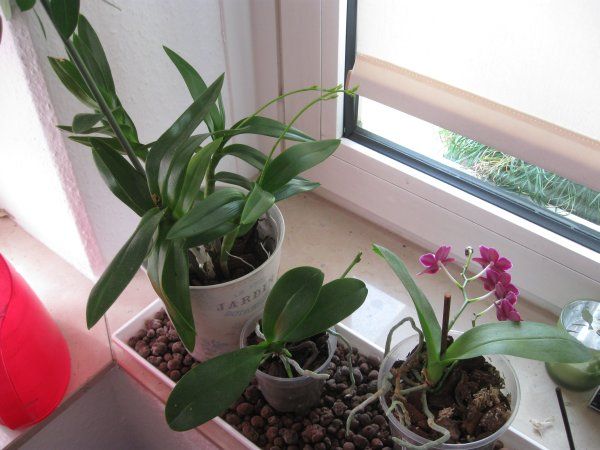 Das Dendrobium Blue Moon hat seine Neutriebe fertig und hat mit seinem Einzug hier (13.07.) begonnen Blütentriebe zu schieben. Die sehen jetzt schon so aus: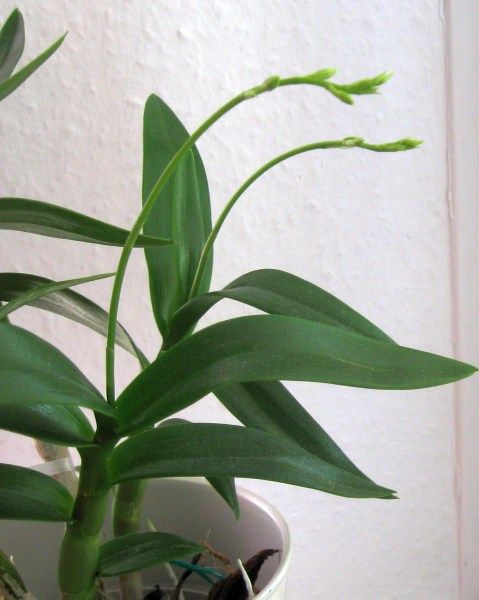 Diese beiden hatten sich ja ewig Zeit gelassen, bevor sie geruhten wieder zu blühen, aber nun entschädigen sie wirklich dafür:
Dtps. Black Jack: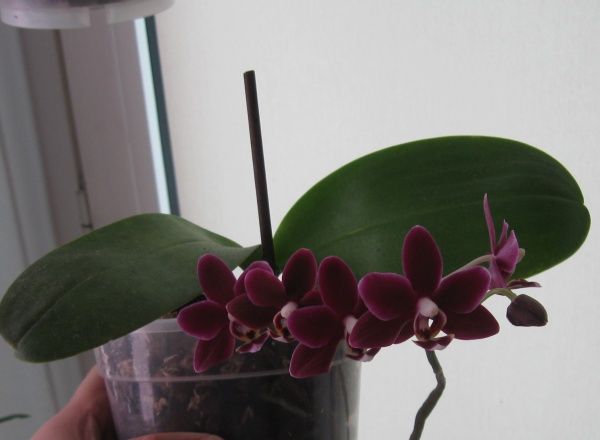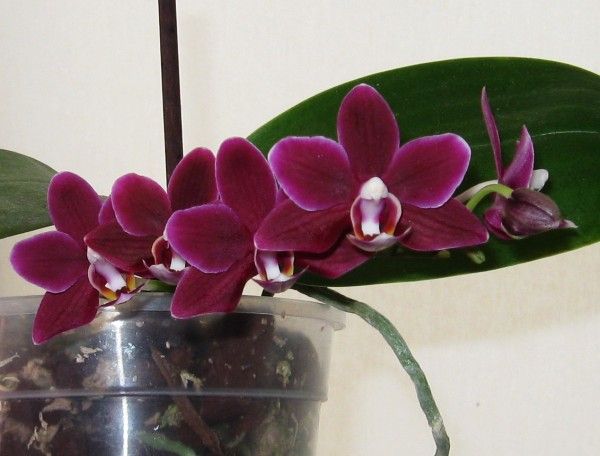 Und die Golden Beauty: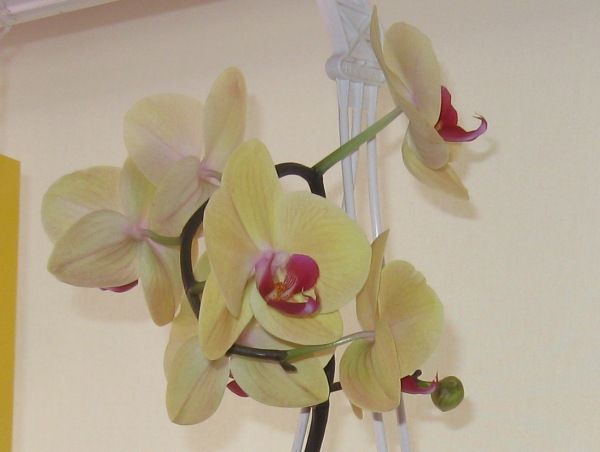 Und die Doritis pulcerrima alba blüht und blüht und blüht- die Blütentriebe wachsen einfach fröhlich weiter: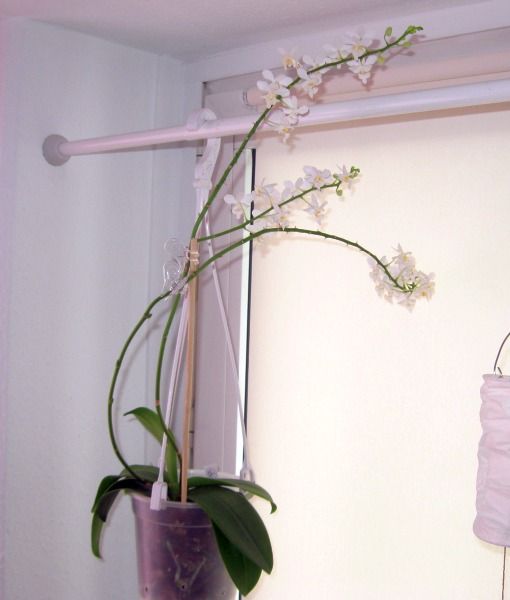 English Version:
Finally there is time for an orchid post again
The orchids are loving it here (quite possibly due to the high temperature difference between day and night- it is over 6C and is pretty natural for them) and are very busy.
The live ins in the sleeping room are mostly busy with growing their greenery, but they do that very thoroughly. Never tired Odontioda Stirbic is still in bloom, that is almost four weeks now- and the stress of being moved included.
Outdoors, we have surprises. My greenhouse candidates got very unregularly and sparse amounts of water, but surprisingly, that seems to be what they wanted. The little Black Comet is growing a new shoot and the Dendro Nobile pot is at making huuge blossoms!
Especially the Dendro seems not to mind the weather at all, as long as it is shaded.
My Nelly Isler hated the greenhouse and withered, so I gave her up before the move. But then I found a replacement in the supermarket. The lovely plant has miserable roots but already several shoots and since it is not suffering, yet, it will make it most likely, especially now that it has a pot that fits the amount of roots. I am optimistic that I can nurse it back to full health.
An overview over the windowsill shows growth nearly everywhere, leaves and spikes are in the making.
Dendrobium Blue Moon has finished its new shoots and is now making express spikes. They were visible as little knubs on the day the plants moved in here. (13.07.) And now they already have grown considerably.
And my two slowest orchids, which kept me waiting forever with reblooming have now reached full bloom, too, in a very rewarding manner. Here are Dtps. Black Jack and Golden Beauty in full bloom.
And the Doritis pulcherrima alba is a flower-machine, I swear, LOL!! The spikes keep happily on growing and growing, flowering eagerly at the tips.