Einige habe ich ja schon eine Weile beobachtet, aber andere sind echte, freudige Überraschungen. Wenn nichts dazwischen kommt, blühts hier bald auch drinnen.
Hier ein kleiner Überblick:
Die Doritis pulcherrima alba lebt nun richtig auf und bekommt sogar einen Seitentrieb an einem Blütentrieb: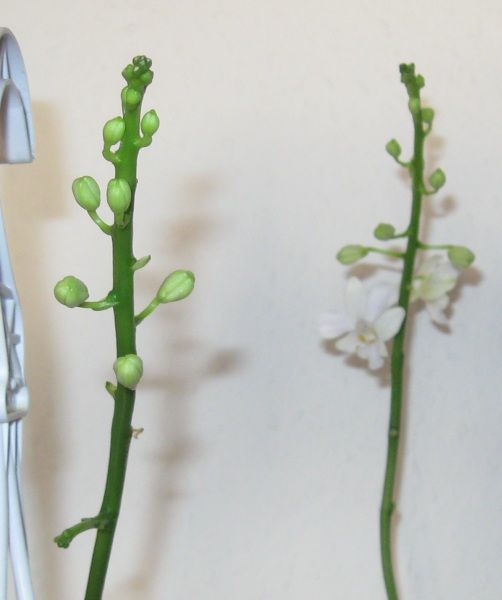 Das hier ist der ältere Blütentrieb der Phaleanopsis equestris var. alba (und jetzt sieht man auch schon, das "alba" auch stimmt, puhhh..)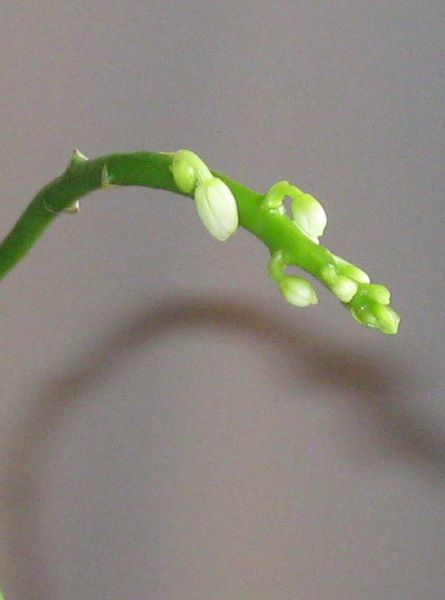 Die Knospen der Howeara Lava Burst wachsen kräftig: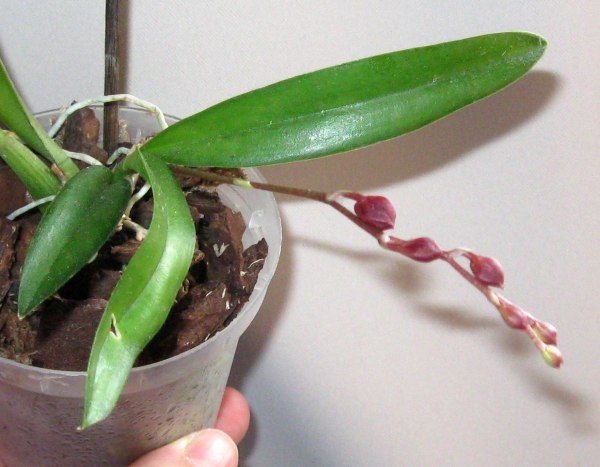 Wenn die so dunkel sind, wie sie jetzt aussehen, wäre das super, aber ich glaube, von innen sind sie heller.
Doriteanopsis Golden Beauty- hier wächst der Blütentrieb auch kräftig, ich bin gespannt wie lang der wird und wieviele Knospen sie haben wird.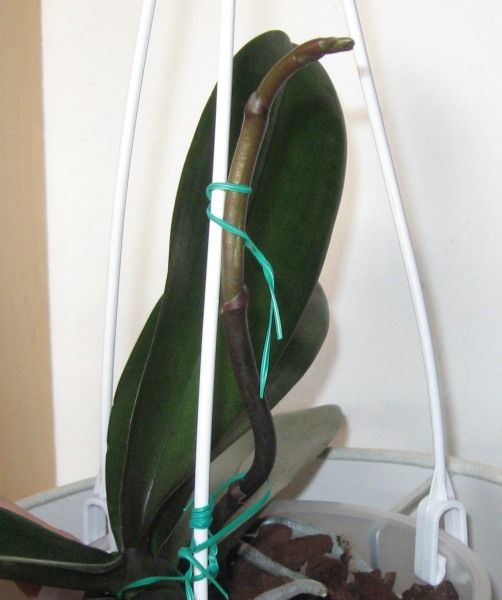 Und nun die Überraschungs-Blütentriebe:
Die fleissige Phal. bellina macht nicht nur Wurzeln, sondern auch wieder einen Blütentrieb: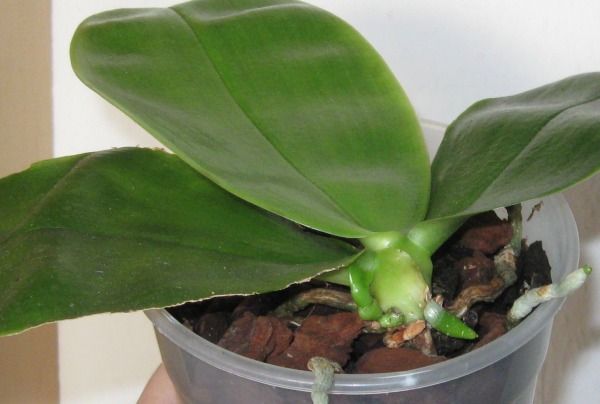 Unschlagbar im Tempo ist meine Odontioda Stirbic- der Neutrieb ist noch gar nicht richtig fertig, und hier kommt schon der nächsten Blütentrieb. Zuletzt hat sie im Oktober geblüht.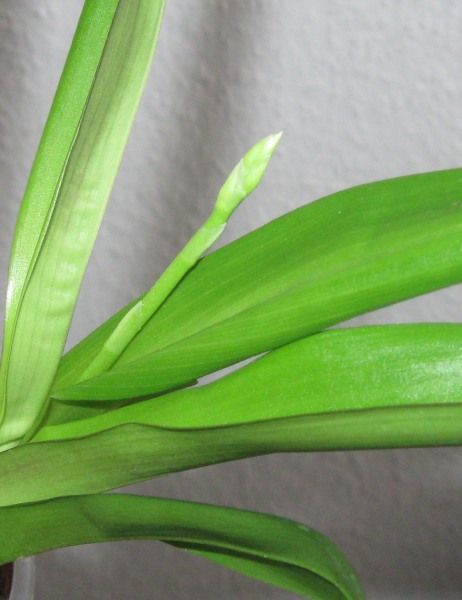 Und dann noch die größte Überraschung- die von mir in liebevollem Spott als Grünpflanze deklarierte Doriteanopsis Black Jack schickt sich an, mich Lügen zu strafen- denn wenn ich mich nicht irre, dann habe ich zwei(!) Ansätze für Blütentriebe gesehen.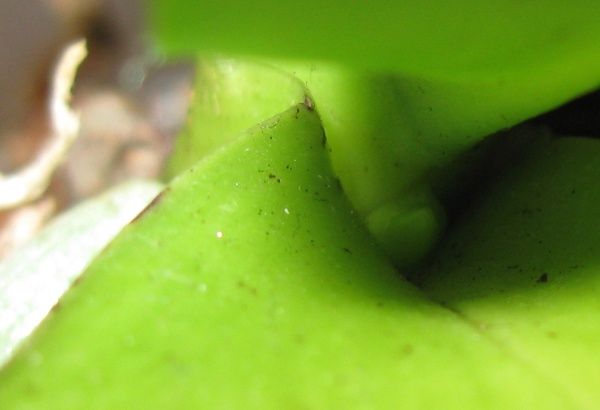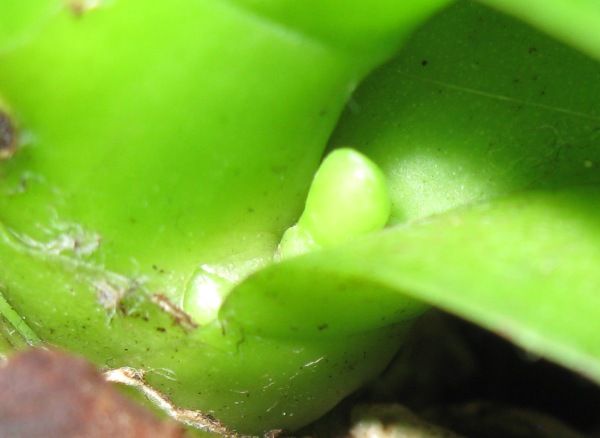 So klein und niedlich sah sie aus als sie hier ankam:

Jetzt ist sie so groß und der Topf in dem sie steht ist gut 4,5 Mal größer als das Moostöpfchen…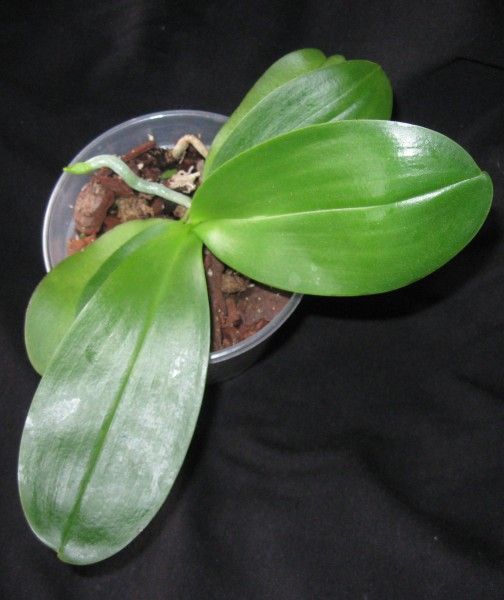 English Version:
Showing off the spikes starting to grow everwhere! First those which I already watched progress with delight. And then the lower three plants surprised me, because I wasn't expecting anything yet. The biggest surprise of all was the not-so-small-any-more Doriteanopsis Black Jack which has grown gigantically and was mockingly sorted into green stuff by me- and now it apparently prepares two(!) spikes to prove me wrong. Wow!