Manchmal fragt man sich ja schon ob man nicht etwas plemplem ist (gerade habe ich mal wieder einen Sack Pinienrinde nach Hause geschleift), weil man für die Orchideen doch ziemlichen Aufwand treibt. Aber dann guckt man sich die Pflanzen an und sieht wie gut sie sich so ganz ohne Gewächshaus machen, sogar über der Heizung. Und das entschädigt dann mehr als genug für das Getüddel- es ist halt ein Hobby.
Meine Phal. Mashimo blüht immer noch mit zwei Blüten (schon seit Januar) und meine Ludisia nun auch, davon folgt noch ein Bild.
Grund zur Freude gibt es hier – meine Phal. bellina, die im Winter mal kurz Anstalten gemacht hatte sich zu verabschieden hat nun das Schmollen nicht nur aufgegeben (nach Änderung der Haltungsbedingungen), sondern wächst sogar wieder- hier ihr schönes neues Blatt.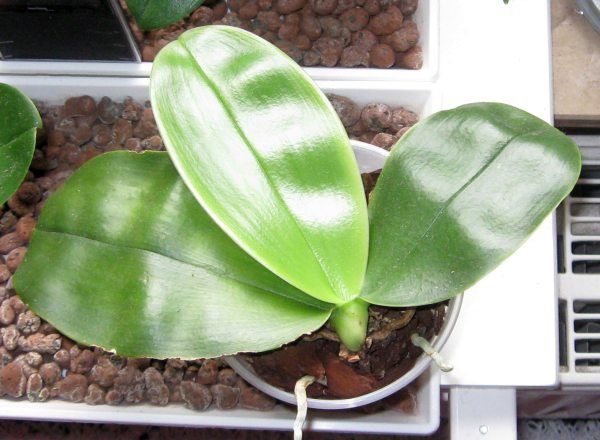 Und endlich, endlich, ein Blütentrieb an meiner Golden Beauty! Ich habe sie letzten Februar gekauft und nun, etwas über ein Jahr später hat sie sich nun dazu aufgerafft nicht nur zu Wachsen, sondern auch mal wieder einen Blühversuch zu machen. (Das stützt meine Theorie, das die Orchideen ca. 1 Jahr brauchen, bis sie sich eingelebt haben, ganz besonders wenn sie im Winter eingezogen sind.)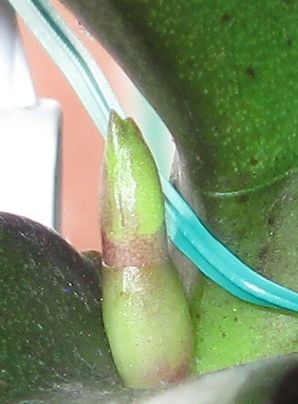 Und nachdem ja nun alle Pflanzen soweit versorgt und vernünftig getopft sind, fiel schon auf, das noch etwas Platz bei den Nopsen ist. Und nach zwei Wintern Erfahrung mit keinem Verlust in diesem Jahr habe ich dann kurz entschlossen noch ein Pflänzli bestellt- eine Phal. equestris var alba (hoffe ich, wenn es die Variaton nicht ist, dann ist die Blüte rosa.) Orchideen Wichmann hat mir eine schöne Pflanze mit zwei Blütentrieben ausgesucht (der zweite ist noch ganz klein), nur die Wurzeln sind nicht ganz so doll- aber nun kommt ja die wärmere Jahreshälfte, das kriege ich schon in den Griff.
Die Pflanze schaut so aus- weil das Bild mit Blitz und Kunstlicht ist, sind die Farben dunkler, die Blattfarbe entspricht eher der Bellina.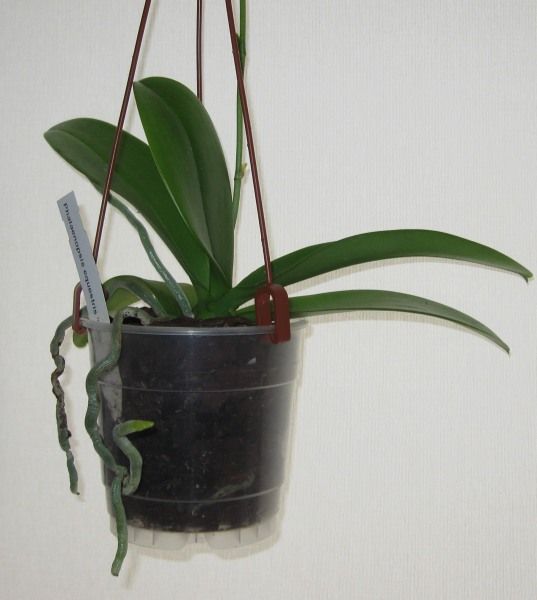 Die Blüte sieht dann wie eine Schneewolke aus: Phal. equestris var alba Blüte
Naja und weil es ja immer den Mindestbestellwert gibt, durfte dieses Pflänzchen noch mit (das ist vielleicht ein Brummer, von wegen Pflänzchen, die mußte ich heute erstmal in einen größeren Topf setzen), auch mit zwei Blütentrieben in Arbeit. Eine Doritis pulcherrima var alba:

Und so wird sie blühen: Doritis pulcherrima var alba
Beides sind Naturformen, aber beide sind Orchideen mit heller grünen Blätter und mit denen komme ich komischerweise besser klar als mit den dunkleren Kollegen, ich weiß auch nicht warum- und sie mögens gerne hell. Deshalb werde ich sie einfach wie meine Bellina pflegen.
Und nun hoffe ich natürlich, dass sie das Umtopfen nicht übelnehmen und bald Knospen ausbilden.
Orchid thoughts
I was just asking myself it isn't slightly nuts to make all the efforts for the orchids (I had just dragged another sack of pinebark home), but then you look at them and see how well they do even without a greenhouse. And seeing them thrive is more than enough compensation- it is a hobby afterall, so it can take some time and money.
The Phal. Mashimo still sports two of her large blossoms (blooming since January) and my Ludisia has just started to bloom, yay! (piccie follows)
Reason for delight is also my Phal. bellina, who made an attempt at perishing this winter but obviously did not only hang on but also decided to thrive again, after I made a correction to my mistake in keeping it. Look at that lovely large new leaf.
And finally, finally a spike in the making on my Golden Beauty! Yay! I have it a bit longer than a year now and it finally considers an attempt of blooming after making some large leaves. (It strengthens my theory that most orchids need about a year to feel at home)
And now that all plants seem happy (all at once!!) I decided that I could now reward myself for this with a plant that I have been wanting very long now. (There is room for it, too, no squeezings on the windowsill neccessary) Especially after a winter without big losses and my orchid-sense (*g*) steadily improving I thought it was time to add another botanical Phal (meaning it is not a hybrid)- so here comes my new Phal. equestris var alba, yay! (I really hope it *is* an alba, because I will only know that when it blooms finally, LOL!! If I am unlucky, the colour is pink…) The appeal of this plant you can see when you click the link under the photo- that is how an established Equestris alba looks like when being in bloom. Orchideen Wichmann has picked a really nice plant with two spikes (one is still very small), just the roots weren't so super. But since we get now warmer temperatures, I am not so much worried about that, it will grow nice new ones during summer.
Well, and since there is always a minimum amount when you place an order, there was this other little plant hopping right in. (Little, allright, LOL!! It is an unexpectedly big one and needed to be repotted ASAP, because it was already climbing from its pot…
So here is my Doritis pulcherrima var alba, also with two spikes. The link above provides an image of how it will bloom.
Now I am hoping that they won't sulk much about the transport and the repottings and will make buds on those promising spikes, soon.