Mit diesem Blütentrieb hätte ich überhaupt nicht gerechnet- das hier ist die kleine Howeara Lava Burst, die hier zum Blühen ansetzt. 😀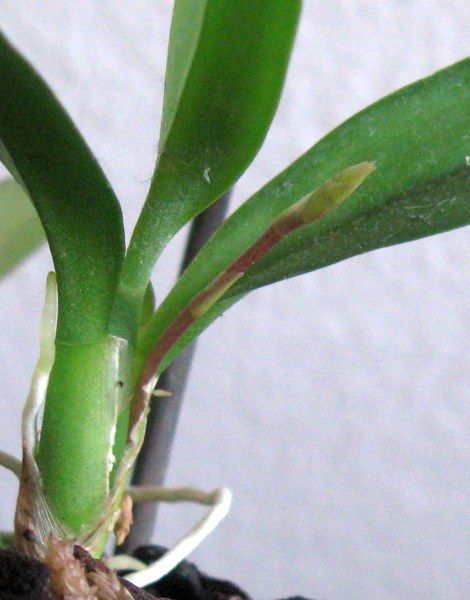 This is a spike that I would have never expected- it is the little Howeara Lava Burst that makes an attempt at blooming. 😀
EDIT:
Glück und Ärger liegen bei Pflanzen irgendwie immer ganz dicht zusammen… Meine neue Phal. equestris hat Wollläuse. (Blärgh!)
Ich habe eben mal geschaut warum der große Blütentrieb so mickert und dabei diese unerwünschten Mitbewohner entdeckt. Zum Glück hing der Topf im Fenster, was die Verteilung hoffentlich etwas erschwert hat. Die (mit Abstand) daneben hängende Doritis sieht (noch) Gesund aus und die darunter stehenden Dendros auch, aber sicher ist sicher. Also sind die gerade alle in die Dusche gewandert und haben die chemische Keule abbekommen.
Die Pflanzen im anderen Fenster werde ich gleich sicherheitshalber auch nochmal genau absuchen.
Joy and annoyance are always close with keeping plants, it seems… My new Phal. equestris has mealybugs hooray! >.< It is a really good luck that I hung the pot in the window, like that, their spreading should have been slowed down considerably... The Doritis next to it (with some space between them) seems ok and so seemed the Dendros and others below it, but I do not take chances. I just took everyone of them to the shower and applied the appropriate chemicals. How icky! I am gonna check the plants in the other windows most closely, now, just to be sure to catch any spreading early on...