Heute habe ich meine größte Hybride mal gemessen- die sieht nicht nur groß aus…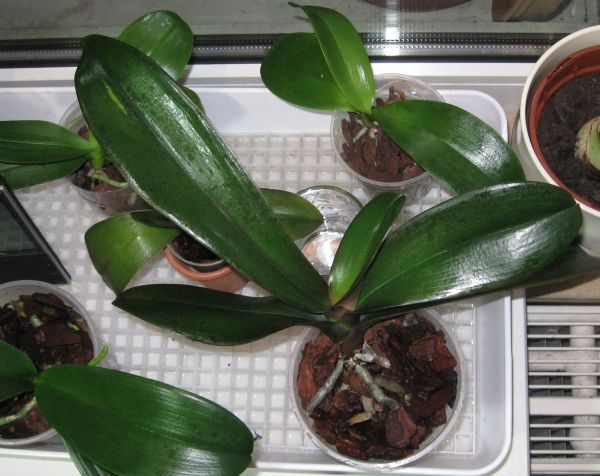 …die Doritaenopsis Golden Beauty ist auch groß: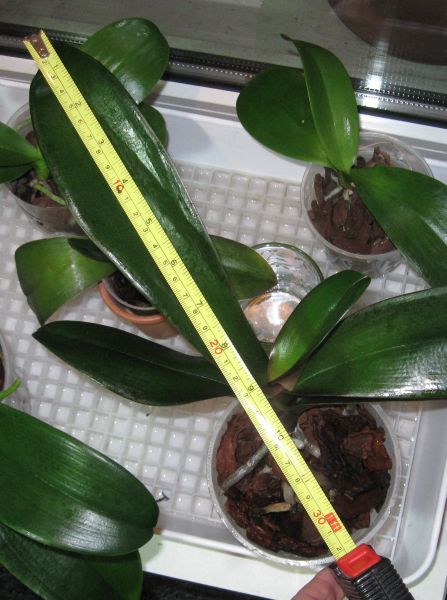 Dieses 22 cm lange Blatt hat sie in meiner Obhut wachsen lassen. Im Februar habe ich sie dann ein Jahr und ich hoffe dann irgendwann mit einer Blüte rechnen zu dürfen, denn ich habe festgestellt, dass die Phalaenopsis-Hybriden bei mir ca. 1 Jahr brauchen, bis sie sich eingelebt haben.
Ein Hammer Wurzelwachstum hat die kleine Doritaenopsis Black Jack seit sie in reiner Rinde mit ganz wenig Spaghnum Moos sitzt. Die macht zwar keine Anstalten blühen zu wollen, aber dafür wächst sie wie verrückt.

English Summary:
Today I measured my tallest Phalaenopsis-Hybrid, a Doritaenopsis Golden Beauty- and lo, the big leaf that it made here in my care is 22cm long! In February, I will have it one year and I hope for flowers somewhere around that time, since I have noticed that it takes most Phalaenopsis-Hybrids about a year to settle down properly and reach their full potential.
The little Doritaenopsis Black Jack makes no attempts at blooming, but ever since it sits in pure pine bark with just a little spaghnum moss, it grows roots like heck. When I got it, it was a young plant with not much roots at all. Now they grow and grow and grow.