Antwort: Zwölf Bücherkisten voll.



English Version:
How many books fit into my big shelves? Answer: Twelve Book-boxes full.
Heute morgen war mir schon beim Aufwachen warm- war ja klar das es jetzt heiß wird, wenn ich mit dem anstrengenden Teil des Umzugs anfange…
Hier ein kleiner "Geht's noch" Moment in der Küche:


(Die Meßsonde für draußen liegt auf der Metall-Fensterbank)
Und so siehts hier gerade aus, nach dem ich das Chaos weitestgehend wieder zusammengepfercht habe, damit ich heute Nacht nicht über irgendwas falle.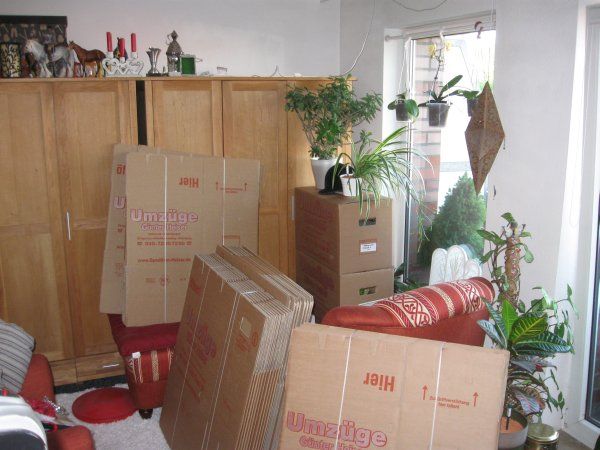 Aber immerhim sind die ersten 9 Kisten gepackt! (Auf dem Bild oben sind nicht alle drauf) Und der entrümpelte Schrank passte in genau 2,5 Kisten, wow!
Wieviel ich reinpacken kann habe ich auch schon prima raus- immer wenn die sich ähnlich schwer anfühlen wie die Katalog-Kisten, wenn wir mal wieder eine Lieferung bei der Arbeit bekommen, dann wiegt die Kiste ca. 20kg- ich habe sie anfangs zur Kontrolle gewogen.
English Version:
This morning I felt already overheated when waking up – it was totally predictable that the temperatures are going to be summery *now* – when I begin with the exhausting part of moving…boxing things up and lugging those boxes around. And so there was a little WTF-moment in the kitchen this morning, when viewing the thermometer. (It is easily explained, though, the outdoor sensoring element lies on the metal windowsill)
The second image shows the attempts to tame the chaos for the night, so that any tripping accidents can be avoided.
I have packed up nine boxes now, yay! (The image does not show them all) And I have already a real good feel how much I can load them. Whenever they start to feel as the boxes we get at work, when new catalogues are delivered to us, then they weigh about 20kg. I controlled the first ones with the scales to verify this.
Oh and the contents of the sorted through closet fit into 2,5 boxes now, yay!
Wer erinnert sich nicht? Einfach mal hier reinhören:
http://youtu.be/EshRTkJ7M6A
In meinem Fall hat die Kleine aber Recht, es kamen Kartons! Und jetzt hab ich einen Stapel davon herumliegen und stehen… Hier sind Bilder davon: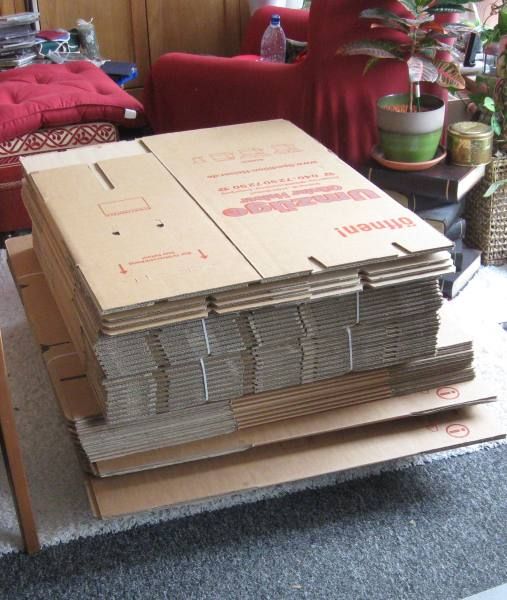 Dabei waren auch Klebeetiketten, die man Beschriften kann- Ivonne hatte mir ja netterweise Ihren Edding vermacht.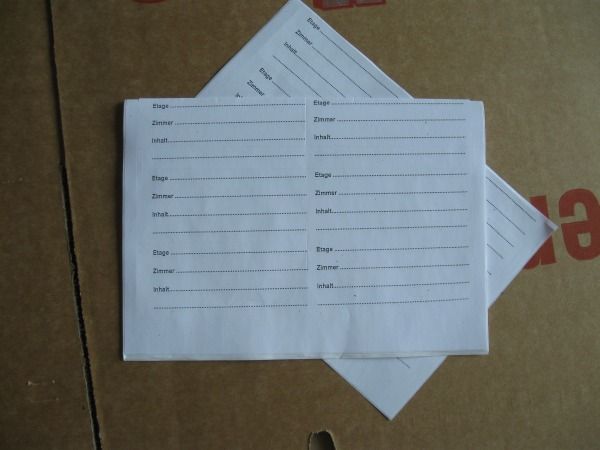 Mitgeliefert wurde auch diese Aufbau-Anleitung- ich kam aber mit den direkt auf den Karton gedruckten Hinweisen besser klar, flöt.

Und so sieht dann einer der extra-starken Bücherkartons fertig aus- laut Zettel kann der bis 40kg (!) Gewicht bepackt werden:

English Summary:
Every kid of my age probably remembers the cartoon-show named Rappelkiste, which usually started with this clip:
http://youtu.be/EshRTkJ7M6A
The words Cartoon and Karton look and sound pretty similar for small children, so they made it a wordplay, letting the girl yell "Attention, now comes a box (Karton)!" While a voice from the off corrects her "It is called cartoon!"
In my case, the little girl is correct, because today I got a heap of boxes to pack up my possesions in them. Above you can see the heap and the additonal stickers and leaflet. And also one of the boxes assembled. The smaller book-boxes pack a weight up to 40kg!