An meinem Geburtstag hatte ich bei Ikea ein Oncidium Sweet Sugar gefunden, was sich allerdings als vorgeschädigt herausstellte und schnell einging. Gestern war ich auch bei Ikea und habe zwar keine Übertöpfe gefunden, aber ein Orchideen-Schnäppchen. Ja, ich weiß, eigentlich wollte ich um die Schnäppchen ja einen Bogen machen, weil die meist nur Arbeit und Mühe kosten und dann doch eingehen. Aber hier hab ich definitiv Glück gehabt. Und nun habe ich einen würdigen Ersatz für die andere Pflanze:
Odontocidium/Colmanara Jungle Monarch (Miltonia X Odontoglossum X Oncidium) (nach Umordnung der Elternpflanzen in andere Gattungen auch Onc. Debutante X Onc. maculatum)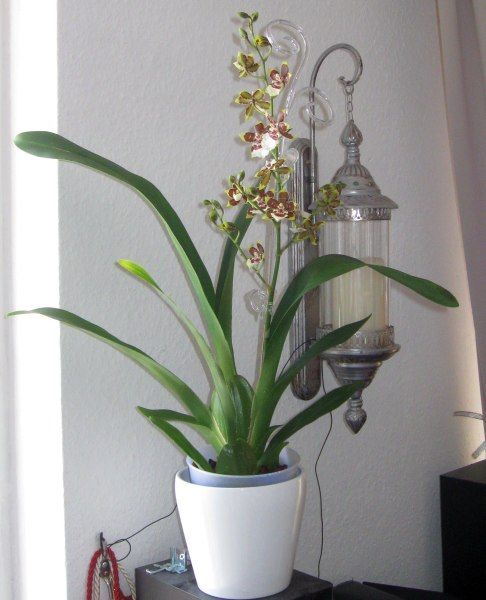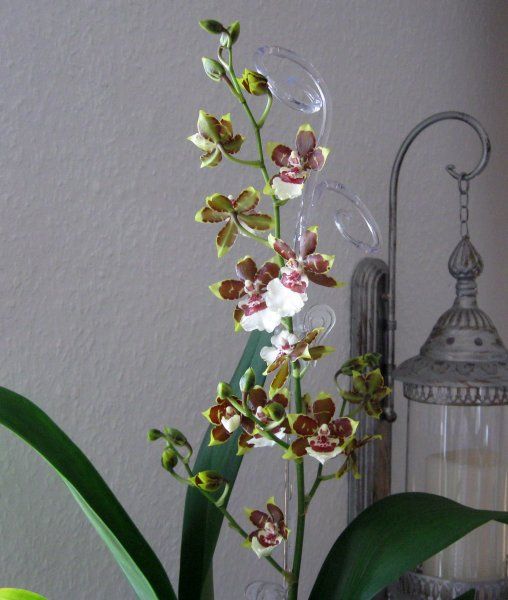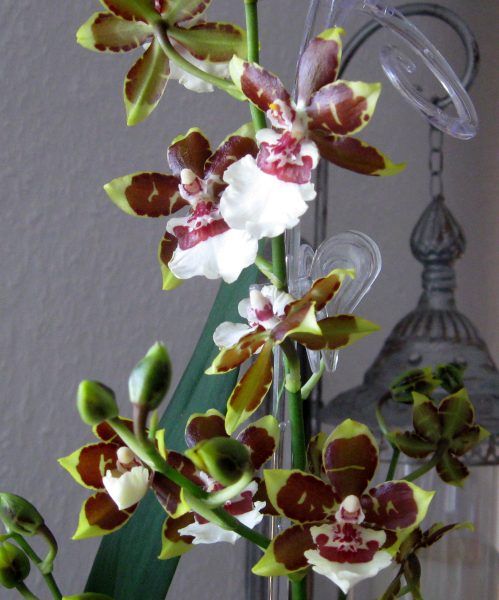 Die Blüten riechen übrigens! Heute Morgen (ehm, Mittag) haben sie gerochen, ich weiß den Duft nur nicht einzuordnen. Muss morgen nochmal schnuppern.
Warum Glück? Weil die Orchidee in einem super Zustand ist- man beachte die Wurzelmenge:

Nach einer kurzen Quarantäne wird die Pflanze in dem Blumenkasten in der Küche wohnen, zusammen mit der Pflanze mit den roten Knospen. Miss Milton wird in ein großes Glas umziehen und daneben stehen.
Orchid-Replacement:
On my birthday, I had found an Oncidium Sweet Sugar at IKEA, but unfortunately that plant did already have some damages in the root area and didn't make it.
Yesterday I was at IKEA again and found a worthy replacement by chance. And cheap, too. (I know, I have promised myself to stay faaaar away from cheap little plants, because they normally just cost a lot of time and effort and die anyway, but here it was obviously a healthy plant. Irresistible.)
It's a Odontocidium/Colmanara Jungle Monarch (Miltonia X Odontoglossum X Oncidium)
I found additional info here: http://davesgarden.com/guides/pf/go/97937/ I quote said page: "It was once classified as Colmanara Jungle Monarch but with recent name changes, the Miltonia warscewiczii parent is now Oncidium fuscatum, hence this hybrid was renamed as an Odontocidium from Colmanara."
But whatever the name, I love the colourful blossoms and they are even somewhat fragrant around morning / midday, I just couldn't place the smell, yet.
The last picture illustrates how lucky I was- all those roots there are ok, nothing hollow or murky. Now I hope it will feel at home quickly here.
After a short quarantine, it is going to live in the flowerbox in the kitchen with the plant featured in the post below. Miss Milton is going to move into a high Vase and can live next to them.