Heute habe ich meine Canna-Rhizome bekommen. Sie hatten eine ruppige Reise wie es scheint. Und der tolle Hermes-Fahrer hatte den Karton in den für alle Welt zugänglichen Briefkasten gestopft. Das nennt sich dann zugestellt…naja, Hermes halt, ist man bei denen ja schon gewohnt. (Hätte ich vorher gesehen das der Versand über die geht, hätte ich da nichts bestellt.)
So sah das Päckchen aus:

Zum Glück sind die Rhizome recht kompakt, da war jedenfalls nichts gebrochen oder so… Leider hab ich nur ein Bild von vor dem Auspacken, weil ich danach Erde an den Handschuhen hatte und so die Kamera nicht mehr halten konnte.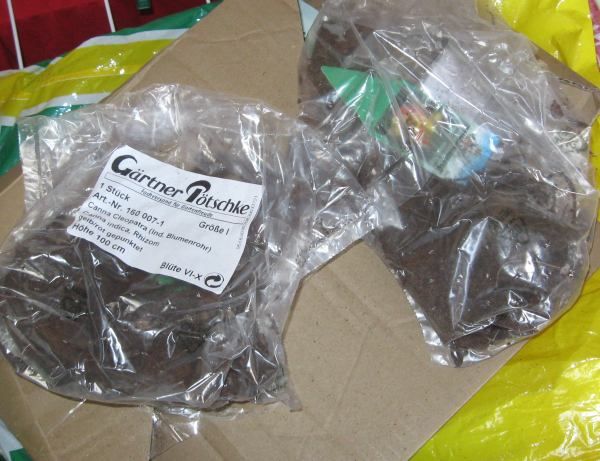 Sie sahen ungefähr so aus, nur viel erdiger und ohne Austrieb:
http://green-24.de/forum/files/thumbs/t_rhizome_127.jpg
Da beide recht klein sind und das eine irgendwie ein bisschen mickerig aussah, habe ich sie nun erstmal beide zusammen in den großen Topf gepflanzt. Sollten sie da explodieren, kann ich sie ja immer noch trennen. Wuchshöhe ist übrigens mit 1m angegeben, was perfekt für den Balkon wäre.
Da sind sie nun drin, die Schildchen markieren die Seiten auf denen ich die Knollen vergraben habe. Das gelbe Klebeschild ist da drin, damit eventuelle Trauermücken nicht weit kommen.


Jetzt bin ich mal gespannt ob da was austreibt. Bis nach den Eisheiligen (11.5.-15.5.) bleibt der Topf drinnen, danach können sie dann raus.
The Canna-Project – 1
Today, my Canna rhizomes arrived. Judging from the state of their packaging, they had a rough ride. The "awesome" delivery guy of Hermes had stuffed the box into the public letter box, where everybody could have picked it up again.But I am not surprised, I was kind of expecting bad service, I never had one single pleasant shipping experience with them – and had I seen that the shop uses them, I wouldn't have ordered there.
The first picture shows the state the parcel was in upon me finding it. Luckily, the rhizomes seem to be sturdy, there were no breaks or palpable damages to them.
Because I was carried away by eagerness, I just have the view of them on image two and forgot to take one out of the foil. They looked roughly like these: http://green-24.de/forum/files/thumbs/t_rhizome_127.jpg Just that mine were less "clean" and had no growing activity, yet.
Since they are both pretty small, I put them into one big Pot together, in case of them exploding, I still can seperate them later. *g* So now they sit in their pot (image 3), the little signs marking the sides where I have buried the rhizomes and the yellow thing in the middle is a sticky one, to catch any possible Sciaridae before they can get into my plants. The huge pot has to be indoors until after the Eisheiligen (frosty nights in the middle of May) afterall, or any tender sproutings would freeze to death outdoors.
And now comes the most exciting part- will they sprout or not?