In meinem alten Haus hat immer jemand auf der Querflöte geübt und wenn im Sommer alle Fenster auf waren, konnte man zuhören. Hier hab ich irgendwo einen Klavierspieler als Nachbarn, so wie es sich anhört.
Und ja, es ist geschafft! Heute haben wir dann auch die allerletzten Sachen hergebracht (mein Fahrrad!) und mein Vati hat mir die Lampen nicht nur abgeschraubt sondern hier gleich wieder drangebaut. Jetzt siehts schon gleich schöner aus als mit baumelnden Glühbirnen.
Und damit ihr was zu gucken habt, habe ich ewig trommelnd vor dem Rechner gehockt, während die Bilder sich quälend langsam hochgeladen haben. (Ich bin nur mit Surfstick online, das richtige Internet wird erst Montag freigeschaltet. Und der ist halt eher dazu geeignet Mails abzurufen…)
Von meinen Eltern gabs das Einzugsgeschenk – Salz und Brot:

Dann ein Einblick in meine Stapelverarbeitung: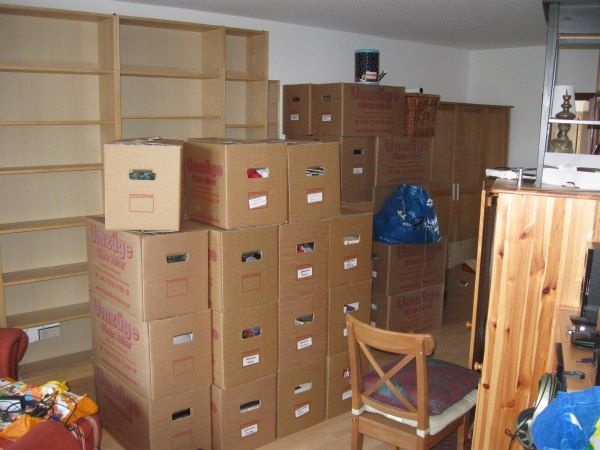 Und zum Abschluss was Schönes- mein Balkon ist nun wegen Überfüllung geschlossen. *g* Ich hab heute alle meine Balkonpflanzen hergeschleppt/ auf der Karre gefahren.

Ich möchte mich auch hier nochmal bei meinen Eltern bedanken- ohne deren Hilfe wäre das nie was geworden. Danke!
Und Frau Nachbarin: Ich hoffe Du bist mit dem Wetter zufrieden. Wie versprochen ist es gleich nach meinem Einzug richtig heiß geworden! *g*
English Version:
Trading transverse flute for piano
In my old house you could hear someone practise transverse flute in summer, when all windows were open. Here is someone practising piano close by. So I still have my balcony music.
And yes, it is done! The move is completed, today we have fetched the very last things, for example my plants and my bicycle. And Dad did not only remove the lamps in the old appartment, but also attached them to the ceiling here again, so that I have a prettier view than dangling lightbulbs now.
And to give you something to look at, I spent an eternity watching the superslow upload of some pics. (I am online with my "emergency" surfstick, which is better suited to view mails. Internet connection gets established on Monday.)
My parents gave me the traditional moving in gift- salt and bread.
Then I have a view of my main box-heap- as it was last night, it has molten away considerably by now, as I have tackled the books in the morning.
And something pretty for the last one- my balcony is now closed due to crowding, LOL!! As said, I fetched my balcony plants today and now they sort of claimed the balcony, LOL!!
And I really want to thank my parents here, too, because they made this all possible for me. Thank you!
And Mrs Neighbour (you know who you are): I hope you are satisfied with the weather- as promised, it got real hot right after me moving in. *g*