Heute gab es auch annehmbare Farben an Blumen auf dem Markt, wo ich die beiden roten Ampelpflanzen (dunkelrot und hellrot) gefunden habe. Und die bunte Ampel konnte ich dann bei Blume 2000 nicht stehen lassen, die macht gute Laune und passt prima in die Mitte.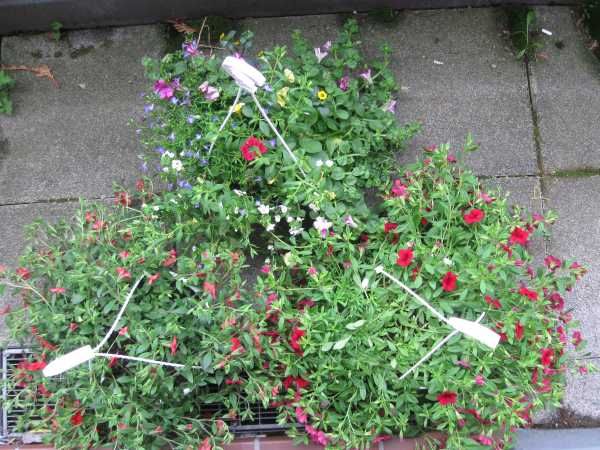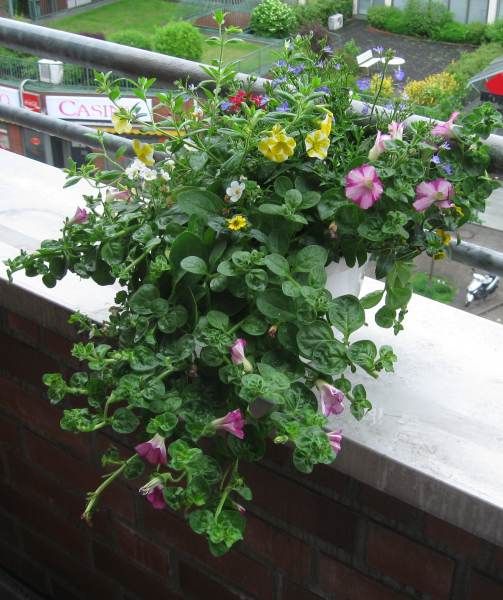 Wie man sieht regnets: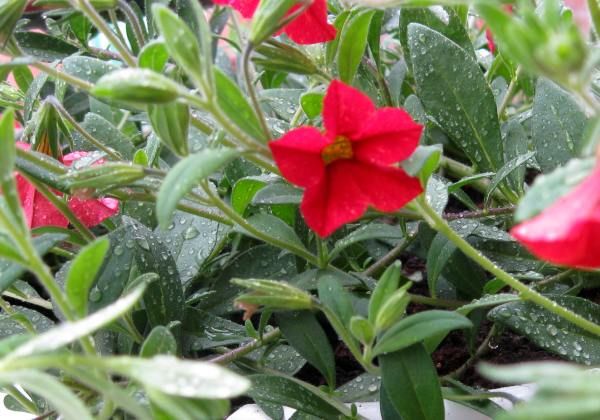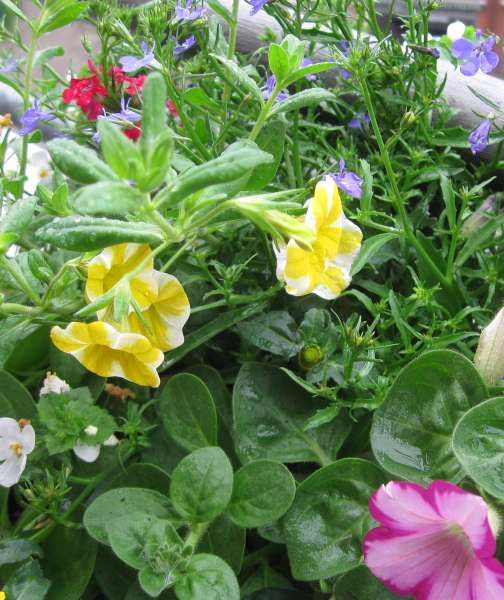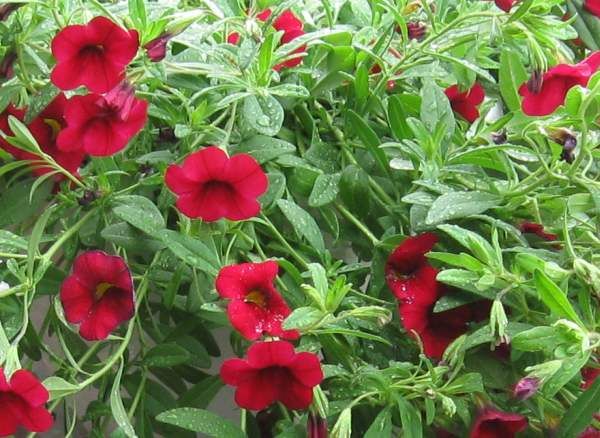 Draußen tut sich noch mehr:
Der Apfelbaum hat nun einen großen Topf bekommen- sein alter Topf war komplett durchwurzelt, er ist also prima angewachsen.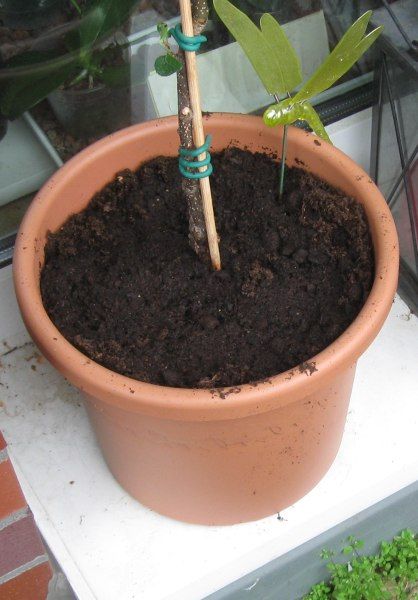 Hortensie und Steinheide gedeien prächtig: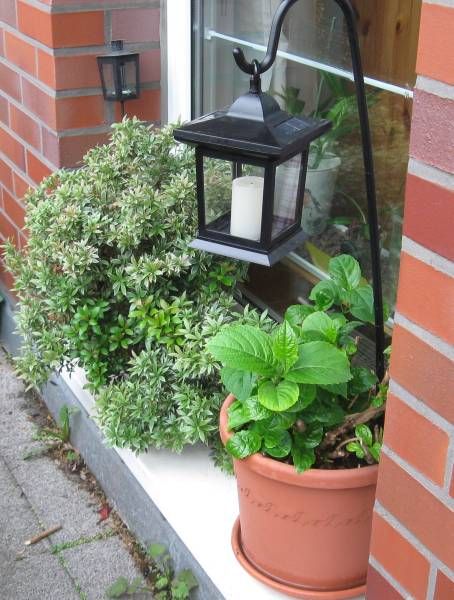 Die Grasnelke auch: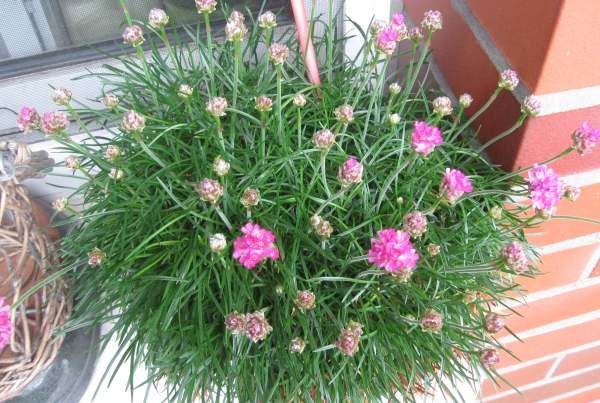 Und dann gabs heute eine Premiere, die ersten drei Orchideen und der Ficus sind nach draußen umgezogen. Ich überlege, auch die Brassias rauszustellen, aber die sind ja noch unter "Quarantäne" und müssen deshalb noch etwas warten.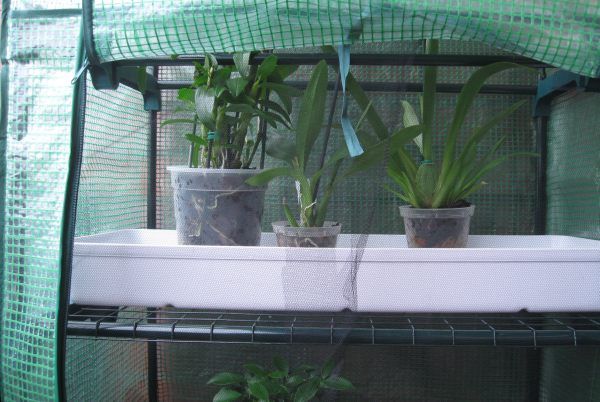 Draußen sind nun der Topf mit den Dendro Nobiles, die Epicattleya Black Comet und die Oncidopsis Nelly Isler. Die beiden letzteren scheinen es noch feuchter als in meiner Küche zu mögen- es bot sich also ein Regentag an um sie rauszustellen. *g* Jetzt haben sie 100% Luftfeuchtigkeit bei 16C, mal sehen, wie sie das finden.
English Verison:
Time for a lengthy outdoor-flower post!
On the market I finally found plants in colours that did not hurt my eye and I got a darkred and a medium red one. At Blume 2000 I could not get past the colourful mix of the third pot- it really makes me happy to look at them. And those striped yellow plants make me think of icecream! *giggles*
As you can see, it rains, so they soon got rescued under the roof, siiiigh…
There's even more going on outdoors, though. The appletree got a pot of proper size now- the old pot was full of roots, so it has nicely outgrown that one.
Hydrangea and Stone Heather continue to thrive, both seem happy with the current weather, surprisingly. The Armeria knows no bad weather, only malnourishment- if you make sure it has "food" then it will be a-bloom most thoroughly.
And the novelty- for the first time, three of the orchids and my little tree moved outdoors! I am considering to get the Brassias out, too, but they need to finish "quarantine"-time first so they can not infect the others with something I overlooked.
So now living outdoors are the Dendro Nobilies, the Epicattleya Black Comet und the Oncidopsis Nelly Isler- the latter seemed more and more displeased with my kitchen, as it got warmer (and thusly less humid) in there. So now they can try out how they like it outdoors at 100% humidity (today, LOL!!) and 16C – that should be more to their liking.